Increase in annual ICS employee survey perception score – from 55.25 in 2020 to 70.99 in 2021
Increase in customer satisfaction via surveys sent – from 65% in May 21, to 70% to date
Proud to work for Golding Homes score increase – from NPS 60 to NPS 83 (above the target of NPS 75)
Golding Homes partnered with us to support their customer satisfaction strategy, which included their innovative "What About Shirley?" customer service programme. Golding Homes are the largest housing provider in Maidstone owning or managing over 8,000 properties and serving the needs of over 21,000 residents across Kent.
In their words, "Golding Homes' customers are the reason we do what we do. We want our customers to hold us to account for delivering on our promises."
Golding Homes were driven to take action after information from a variety of indicators, including customer satisfaction surveys and cultural temperature checks inside the organisation, told a story of customer satisfaction levels well below what they expected of themselves or what they felt their customers deserved. To address this effectively Golding Homes needed to challenge their culture, invest in training and strengthen their customer service foundations, and so they approached us to help.
Achieving outstanding customer service is one of the pillars of their 2021-24 Corporate Plan and we are very excited to be a part of it.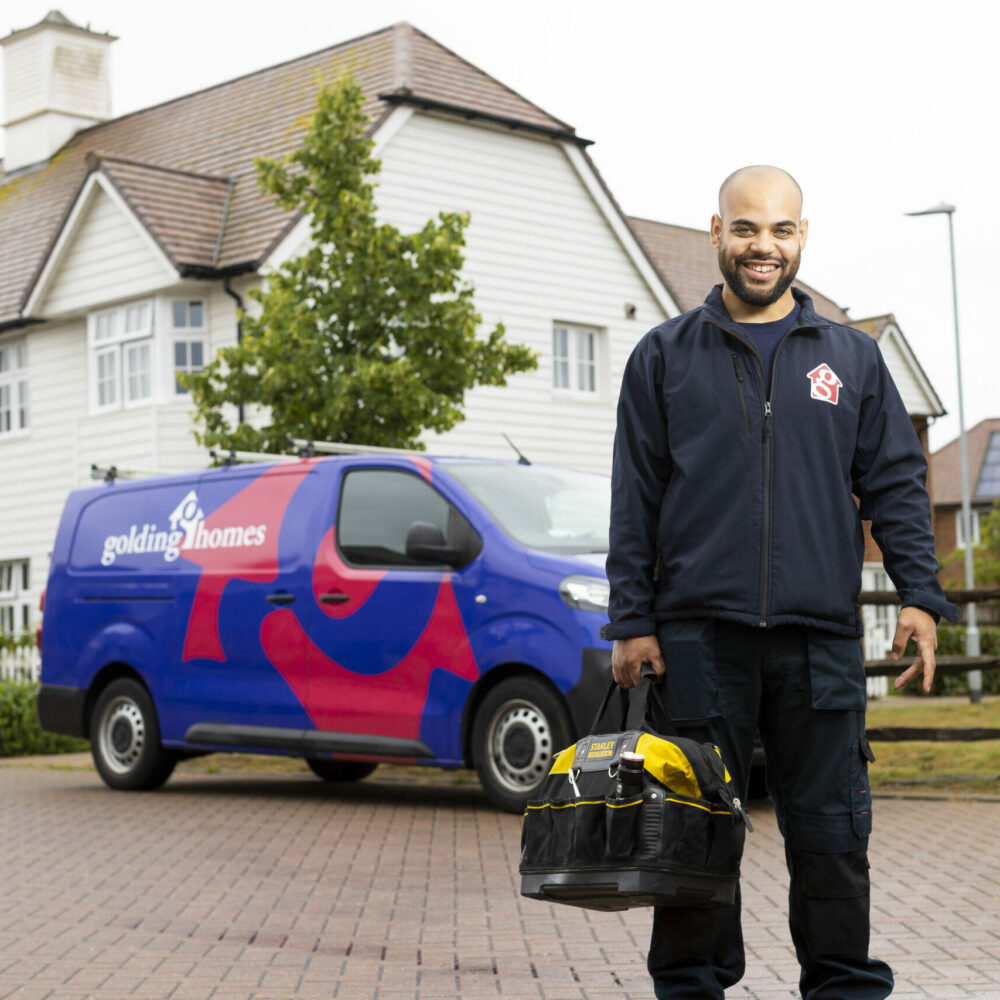 Our training helped people to connect with customers in a positive, constructive way
The 'What About Shirley?' customer service programme aims through training, improved customer focused internal processes, engaging communications and embedded culture change, to bring Golding Homes customers' to 'life'. Our Mindset, Language & Actions Toolkit and training programme helped employees to connect directly to customers, in a positive, constructive way and consider them in all they do at work.
Part of the action plan Golding Homes created was to deliver industry-leading Customer Service excellence training with us, using our proven Mary Gober programme, throughout every level of the organisation, from resident services to internal departments. All desk-based colleagues participated in our training, which was linked back to the overall strategy under the "Think Shirley" branding. Our training and toolkit, along with our proven embedding approach, has provided Golding Homes' teams with the tools and techniques needed to improve their customer service skills and implement new standards across the organisation. Managers received additional training, so they can run their own internal embedding programme, delivering 14 huddles to their teams over the weeks following training.
The Golding Homes 'What About Shirley?' strategy has had a major tangible impact on customer satisfaction ratings and has even delivered an increase in the amount of CSAT surveys being submitted. In the four months from January to April following the programme launch and training, Golding Homes received 127 unsolicited compliments from customers.
Recent results have shown further tangible benefits from the programme both in terms of employee, and customer satisfaction:
An increase in the annual ICS employee survey perception score – from 55.25 in 2020 to 70.99 in 2021
An increase in customer satisfaction scores via surveys sent – from 65% in May 21, to 70% to Jan 2022.
The 'proud to work for Golding Homes' score increased from NPS 60 to NPS 83 (above the target of NPS 75)
An increase in score as a result of our Culture Survey from NPS 70 to NPS 83 (above the target of NPS 75)
High street brand Superdrug wanted to make its customer service stand out. Research had informed them that 35% of customer complaints could be resolved with …
We partnered with Australia Post to engage and empower their people, equipping them with the tools and techniques to enable them to focus positively on what they can do …
Jetstar asked us to design and facilitate a training programme that enabled team members to deliver exceptional service to customers. They have now transformed …
We provided Network Homes with specific support for their new 'People & Culture' agenda which has driven significant improvements in employee engagement, …
MGI Learning continues to work in partnership with Optivo, one of the biggest housing associations in the UK, to transform organisational culture and customer …
Following the initial success of the programme for new Cabin Crew we broaden access to include Contact Centre staff, Engineering, Customer Care, On-line Sales, …