Powerful, proven, and engaging training programmes to equip employees to deliver exceptional customer experiences, adapt to change, improve personal effectiveness, and build resilience
Proven psychology-based training to enhance capability, confidence and performance
We provide inspiring people skills training programmes that drive significant improvements in confidence, capability and performance, equipping people with excellent communication skills and the ability to build strong and collaborative relationships.
We understand that being absolutely certain that any externally provided training you commission for your people will deliver measurable improvements in performance is the foundation for any business case to invest.  That's why each of our training solutions is delivered through our embedded learning blueprint and designed to significantly increase retention so that your people can easily use and master new skills. The content of our training programmes is always based on sound psychological principles and empirical studies and is rooted in science, so we know and can prove it works.
Our powerful learning courses and experiences are practical, attainable and relatable, and we have been able to prove a direct link between the use of the tools from our Mindset, Language & Actions Toolkit and significant metric improvements.
We specialise in training programmes in the following areas:
Training that delivers improved personal effectiveness
and productivity
Your people will graduate from this programme with the confidence in their ability to work in a highly productive and empowered way with their colleagues, customers and other stakeholders.  As they develop these positive, higher trust relationships, inter-departmental competitiveness and potential conflict will reduce to make way for more productive working environments where people feel comfortable either to support or to constructively challenge each other when the need arises.  People will be happy to put in more discretionary effort and display a strong collective desire to work as a team to solve issues and celebrate wins together.  When employee engagement is higher, productivity increases and, ultimately, quantitative and qualitative organisational metrics improve.

Our experience shows that when team members are engaged, challenges are faced head on, problems are solved, customers are satisfied, productivity increases and engagement metrics rise – people will feel valued and secure in the knowledge that they have a significant role to play.  This is the definition of a positive, high trust culture being played out, and is the goal for anyone wishing to implement a successful, productive and thriving workplace. 

When you train your team members in MGI's Mindset, Language & Actions of Toolkit, you will strengthen their capability to build strong, positive relationships by giving them confidence that they can always provide a way forward or options and alternatives, equipping them with the self-management and communication skills to enhance their performance, however demanding the environment. You can also protect relationships throughout your organisation by equipping your people with powerful and practical ways of working together and in different ways – the impact can be dramatic, giving everyone the ability to thrive in their roles, be more productive and enhance performance and business results.
Our proven tools are delivered through our Learning Journeys and easy to adopt embedding strategies and will give your people the ability to have more insight into how they work and how best to work with others. The tools also empower everyone in your organisation to communicate in a more collaborative and constructive way and ultimately build a more productive and effective positive, high trust culture. These co-creative relationships drive innovation and high levels of employee engagement, customer satisfaction and productivity and give you a competitive edge.
You can be completely confident that the in-depth, proven Learning Journey your team will complete. Our Learning Journeys draw on MGI's proven capability in embedding learning and the expertise of our specialists who are leaders in their field. This transformational learning is achieved through carefully crafted exercises facilitated by an MGI Learning consultant in person or online, and supplemented with independent and team activities, online refresher content and motivating assessments and quizzes all designed to maximise and embed the use of the new tools.
The Learning Journey presents a raft of self-assessment and self-awareness tools allowing learners to pause, calmly take stock and identify and learn to manage their negative triggers and positive boosters. These powerful yet easily accessible tools ensure learners are equipped to rise to future challenges and expertly manage their emotions and responses. The emphasis is also on pausing to acknowledge and celebrate successes and build on them for the future, thereby increasing resilience and stamina.
MGI's Mindset, Language and Actions Toolkit provides building blocks for a firm foundation, equipping your people with an invaluable skillset of tools and resources they can infuse across every aspect of their daily working lives.
We start by defining and developing a healthy, Optimal Mindset that drives your motivation to succeed.  This opens the doorway to a powerful understanding of self-awareness and the ability to self-manage, so that you will always respond calmly and professionally rather than react in an emotional and potentially damaging way.  We then deepen this appreciation of ourselves and how we operate in relation to understanding others so that we can build truly meaningful, respectful and impactful relationships.  This is followed up with a deep immersion into the benefits of always having positive, influential conversations via the ability to use language in a way that encourages collaborative, highly productive communication.  This naturally leads through to a consistent and confident ability to fully collaborate, prioritise and co-create with colleagues and fellow team members.
MGI's proven learning solutions will strengthen your team's capability to build strong relationships with each other and your customers, equipping them with powerful and practical ways of working together, managing new demands and challenges and working in different and more innovative ways.  The impact of these hugely improved relationships is dramatic, giving everyone the ability to thrive in their roles, be more productive and embrace anything that comes their way at work with confidence.
For complete flexibility and the option of instant, on-demand virtual training programmes, we have taken our extensive experience in delivering proven learning experiences around the world and created a highly engaging and effective digital learning experience in addition to our face to face, in person programmes.
MGI online courses are available on MGI's own Learning Management System and are also easily portable to sit on in-house LMSs.  The learning can be accessed any time anywhere, allowing it to be undertaken around other operational priorities at a moment's notice.
Our in-depth, proven Learning Journeys are inspiring and provide interactive, meaningful experiences whether delivered in person in a training venue or at customer premises, or virtually over Zoom or Teams.
It is our job as leaders to equip our people to handle whatever comes their way, and eLearning programmes are a vital tool for managers looking for rapid and effective training solutions that will really impact positively on their teams.  MGI's powerful and practical eLearning experiences are readily accessible to all whether your people are continuing to work remotely or are office or retail based.
Our highly engaging and easy to follow eLearning courses are based on our proven Mindset, Language and Actions Toolkit and will equip your people to:
Critically evaluate situations and come up with options, alternatives and solutions
Develop an optimal mindset of ownership, responsibility and optimism
Work collaboratively, find solutions and problem solve with others, including in remote or blended working teams
Deliver exceptional levels of customer satisfaction through positive solution focused communication
Manage their own wellbeing, emotions and responses to the challenges they face at work, and take action
Avoid becoming overwhelmed, say no and constructively challenge where appropriate
Our eLearning programme is easy to roll out to your people
Our proven Mindset, Language and Actions Toolkit, developed by Mary Gober, an expert in employee engagement and customer service, is the bedrock of our engaging eLearning programme.  It's easy to roll out to teams of any size – simply purchase the number of licenses you need.
Suitable for individuals or entire teams
Can be accessed anytime, anywhere
Results-driven and fully measurable
Highly engaging and virtually interactive Learning Journeys
Short modules of content with video based teach
Designed to build confidence as the learner progresses
Delivers practical tools for everyday use and support
Optional group and team activities to bring the training to life
There are many additional benefits of learning online:
Content is available for repeat viewing, with a quick reminder of what was covered including videos broking into bite-sized reminders
Digital learning provides you with a rich source of data via easy to understand reports which allow you to see everyone's progress
Learning experiences are all in one place, whether hosted on our LMS or your own – everyone's learning sits in one central place and people will be able to see at a glance their full learning experience
Building engagement and collaboration, managers can send messages directly to team members, set up group chats, share successes and motivate and encourage all to take part
Cost effective by saving expensive venue and travel costs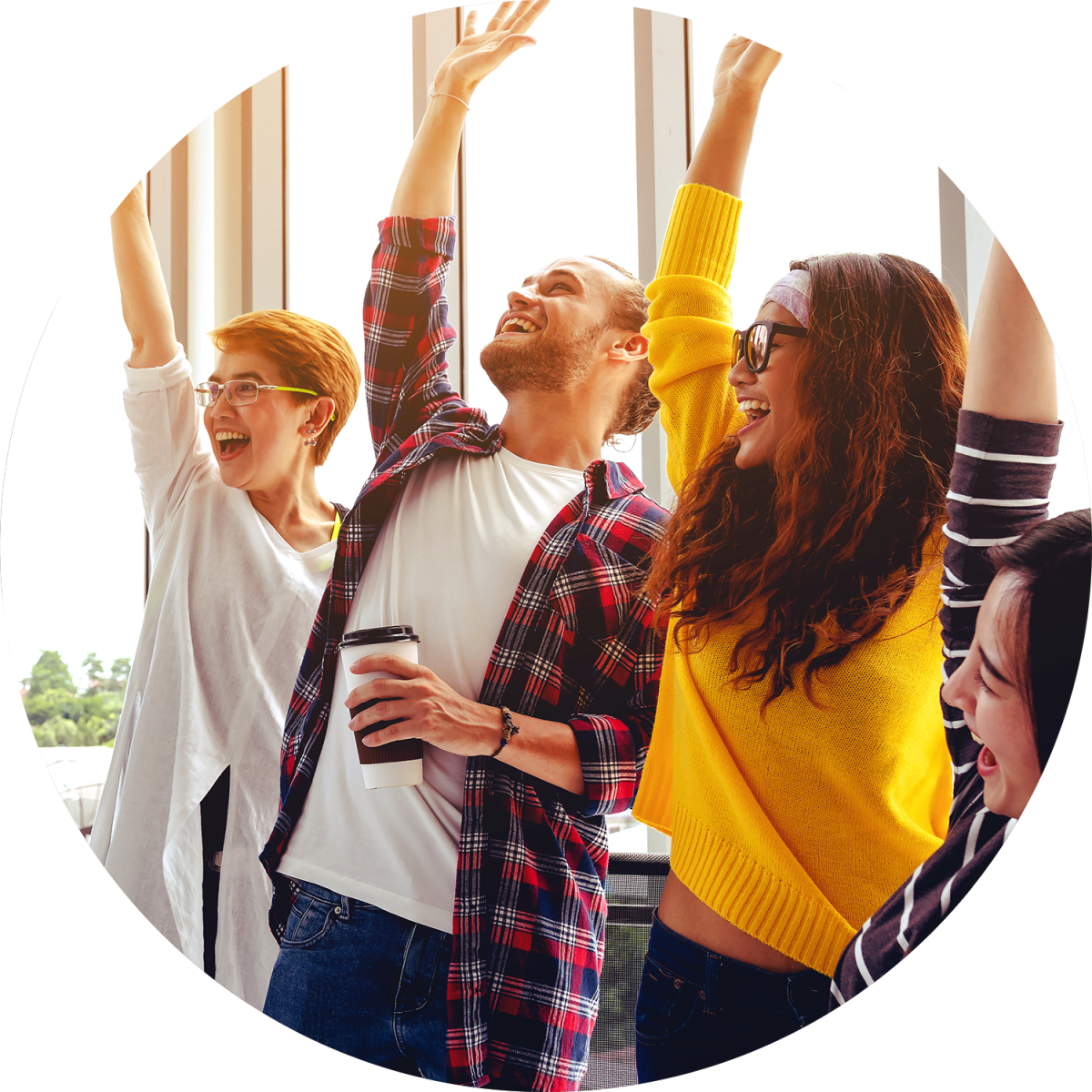 Making skills stick - Our Embedded Learning Blueprint
MGI's training works due to our winning formula for making the skills stick: A + B = C.  It's a proven formula for success and has been honed and perfected over the last 21 years across a multitude of organisations around the world and will ensure that the training initiative you invest in will deliver the measurable results you want with long lasting momentum and effect. 
Our unique Embedded Learning Blueprint encompasses the change outcomes you want to achieve and is presented as a Plan on a Page which details every aspect of your learning programme, the embedding process and the measurable results and outcomes.  By systematically working through the Plan on a Page while building momentum and positive engagement to make full use of the tools taught, we can be sure that results will follow.
At the beginning of the process, we work with you to identify the measurable outcomes you need.  These can include traditional outcomes such as customer satisfaction, employee engagement, productivity and financial results, as well as wellbeing and behavioural outcomes.  From there we establish a tailored positive change programme which will start by equipping people with additional tools and skills to develop their ability to:
Self-manage emotions and behaviour
Develop an Optimal Mindset focused on solutions
Work collaboratively to establish objectives and goals when working with others
Constructively question others for a win / win outcome
Communicate in a positive, constructive, appreciative and empathetic way
This is underpinned by a powerful embedding process that supports the change you are looking to implement, based upon our unique 9-point embedding wheel which gives a clear roadmap that works at the organisational, team and individual level to firmly establish new ways of working.
How our training programmes have helped other organisations
High street brand Superdrug wanted to make its customer service stand out. Research had informed them that 35% of customer complaints could be resolved with …
We partnered with Australia Post to engage and empower their people, equipping them with the tools and techniques to enable them to focus positively on what they can do …
Jetstar asked us to design and facilitate a training programme that enabled team members to deliver exceptional service to customers. They have now transformed …
We provided Network Homes with specific support for their new 'People & Culture' agenda which has driven significant improvements in employee engagement, …
MGI Learning continues to work in partnership with Optivo, one of the biggest housing associations in the UK, to transform organisational culture and customer …
Following the initial success of the programme for new Cabin Crew we broaden access to include Contact Centre staff, Engineering, Customer Care, On-line Sales, …